In the United States, baseball still makes the claim of being "the national pastime", but few believe it anymore. In the Dominican Republic, however, there is no doubt: baseball is king. The DR can call many US major leaguers its sons, including current stars Pedro Martinez, Luis Polonia, Raul Mondessi, and, of course, Sammy Sosa.
Santiago is the hometown of one of the most dominant teams in Caribbean baseball, the Aguilas Cibaeņas (Cibao Eagles). The Aguilas have won the Caribbean World Series three years running, and are currently in pursuit of their fourth straight championship. A group of us were lucky enough to get tickets to Game 6 of the national finals; the winner of that best-of-seven series would go to Mexico City for the Series. The Aguilas led the national series 3-2. Would they win today and clinch the title?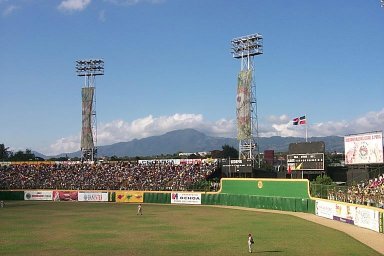 As announcers like to say, it was a beautiful day for baseball. There's nothing fancy about this stadium -- no Jumbotron instant replay screen or high-tech scoreboard -- but the atmosphere is so electric that no such gizmos are needed. This place rocks! Even when the Aguilas are getting blown out, as we witnessed two weeks before, it's wild here.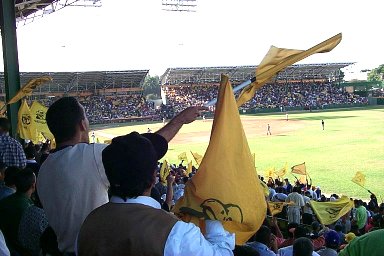 Every hit by the home team, and every out by the opponent, is a fiesta. Horns blare, and the fans wave gold Aguilas flags of every size. Here former NL Rookie of the Year Mondessi (he plays for the Dodgers in the US) gets a hit.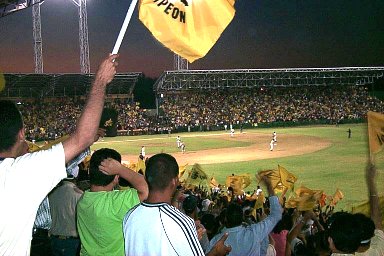 The Aguilas are ahead 7-2. Can they hold on for the victory?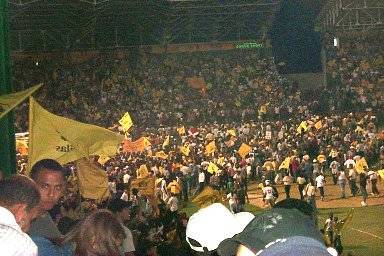 Yes! The fans rush the field. Unlike the US ballparks, there are no lines of mounted police to keep them off the field. It is total mayhem, but joyously so -- no fisticuffs, just dancing and cheering and waving flags.
The celebration spills over into the streets of Santiago. But there are no concerns about vandalism, looting, or overturned cars, as has unfortunately become the pattern in US cities clinching a sports championship. It is a chaotic scene, but in a fun way. Time to party!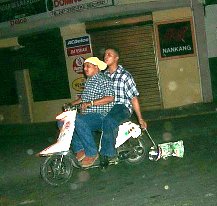 Don't ask why, but the way to celebrate here is to tie something metallic to the back of a motor vehicle. Students spotted one place in town where drivers could pull up and have stuff tied to their bumpers. Motor scooters drag cans and sheet metal. Cars drag bigger objects: car doors, 55-gallon drums, shopping carts, and my personal favorite below, an old refrigerator. You've got to figure that this guy had been planning this one for days.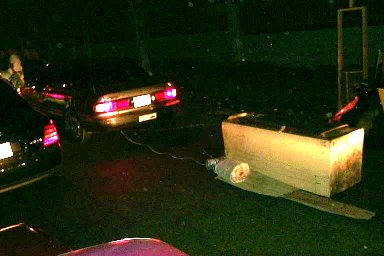 NEWS FLASH: the Aguilas won their fourth straight Caribbean championship!
[ Home ] [ Up ] [ Campo Weekend #1 ] [ Hogar Luby ] [ Cienfuegos ] [ Escuela Genesis ] [ Zona Franca ] [ Mirabal Museo ] [ La Isabela ] [ Aguilas Baseball ] [ Sand Island ]