Submitted by Mary & Pat

Currently, La Escuela Genesis (Genesis School) houses 180 students. Due to lack of facilities and staff, a school day is divided into 3 hour-long segments. First, we start the day teaching a preschool level class of children ranging in age from 3 to 5. In this class the children are enthusiastic and energetic, which makes maintaining order and discipline an almost impossible feat. They have an incredible desire to learn, and it is rewarding to watch them accomplish new goals.
The end of the preschool class brings the arrival of the older students, ages 7 to 10. In this class we are teaching English. It makes teaching enjoyable to have a group of students dedicated to bettering their lives through education. Coming from a poor background, nothing is taken for granted, including education.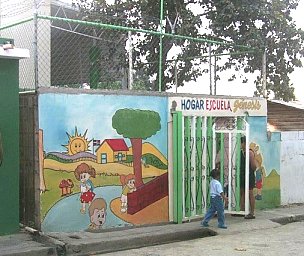 Diamela Pascassio, currently the director of Escuela Genesis, founded the school in 1985. Originally, her idea was to provide the support necessary for single mothers to make the transition from prostitution to jobs in factories and homes. This incredible woman has dedicated her life to helping those with so little to better their lives. With this original idea, she soon saw the need of these children to have an opportunity for education. La Escuela Genesis takes children who have nothing and gives them the tools to better their lives.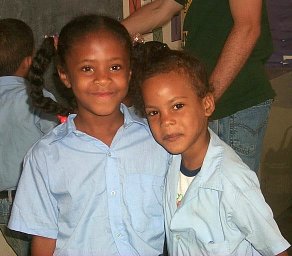 [ Home ] [ Up ] [ Campo Weekend #1 ] [ Hogar Luby ] [ Cienfuegos ] [ Escuela Genesis ] [ Zona Franca ] [ Mirabal Museo ] [ La Isabela ] [ Aguilas Baseball ] [ Sand Island ]