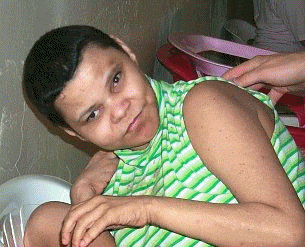 Hogar Luby ("Luby Home") is an orphanage and home for the physically and mentally handicapped near downtown Santiago. Newly-arrived Semestre Dominicano students are routinely shocked upon arrival at Hogar Luby: situated on the second floor of a run-down building with no chair lift or elevator, it is anything but accessible to the disabled; serious overcrowding is the norm; children get little opportunity for exercise, especially since the establishment has no yard in which to play or walk; and the diet is monotonous and lacking in real nutritional value. Those who know Hogar Luby well say with a sigh, "At least the cages are gone". Until recently, children considered too rambunctious and "potentially harmful to themselves" were locked in animal cages during the day.
Hogar Luby is supported by private and public funds. Some children living there were abandoned, no doubt because of their disabilities; other children were brought there by parents who physically, financially, or emotionally are no longer able to care for them. Some parents visit their children regularly and contribute toward their maintenance; more do not. Far too many of the residents of Hogar Luby are "lost children".
The founder of Hogar Luby, Dona Luby, began the Santiago and Santo Domingo homes with good intentions, of trying to fill an acute need in society, but corruption came in the wake of her modest success. Monies and items donated to the homes disappeared, and before long Ms. Luby was briefly imprisoned for misappropriation of funds. Since then, Hogar Luby has tried to dispel the suspicions its founder created.
Six Semestre Dominicano students are on assignment to Hogar Luby. Lindsey, Tara, and Seth work there on Wednesdays and Fridays; Pat, Mike, and Kelly work there on Wednesdays, and travel to their campos on the weekend. Throughout the semester, these students will offer their reflections on their service and the life of Hogar Luby's residents.
[ Home ] [ Up ] [ Campo Weekend #1 ] [ Hogar Luby ] [ Cienfuegos ] [ Escuela Genesis ] [ Zona Franca ] [ Mirabal Museo ] [ La Isabela ] [ Aguilas Baseball ] [ Sand Island ]